Привет
Languages
The human condition is one of many languages, and as a result STEM is practiced and shared through many cultures and languages. This means that items in languages other than English will be shared here.
What is Confusion Research Center?
An un-incorporated non-profit distributed hands-on STEM hackerspace using real and virtual teams working on real world problems.
In 1984 a hands-on science museum, Discovery Hall, was started in Austin, TX by Dr. Jack Turner and Dr. Karl Trappe operating until 1991. The BBS was called Confusion Research Center. In 2006 it became apparent to some Discovery Hall alumni that it was time for a rebirth and a search for founders and board members was begun. Our mission is to explore science, technology, engineering, and mathematics (STEM) using the Socratic Method and hands-on methodologies. The second aspect of our effort is to be distributed across individuals, groups, and geography. Our primary inspirations are Nikola Tesla, Douglas Engelbart, Harold Rheingold, Richard Feynman, the Exploratorium, the MIT Media Lab, the Cypherpunks, Lawrence Lessig, a growing hackerspace community, and our own experience doing STEM. [The Mother of all Demos] [Smart Mob] [Smart Mobs] [Code and Other Laws of Cyberspace]
Membership Requirements
"Men and women wanted for hazardous journey. No wages, bitter cold and sweltering heat, long hours of bright darkness. Safety doubtful. Wonder certain. More of the same in the event of success." [2]
Membership in CRC is not a requirement to participate in most of our activities.
We do have a basic rule that governs all activities:
No police, other LEA, firemen, EMTs, tax men, or other authority figures in a bad mood. If your project requires insurance, licenses, or needs to meet other regulatory requirements it is not CRC's responsibility to provide them.
Lifestyle Management
Part of a healthy mind is a healthy body, and finding the time and a range of acceptable activities can be a challenge. Many of the activities we sponsor include hikes, climbs, and water components over a range of skill levels. Some activities require travel, back country, or specialised skills over extended periods of time and distance with considerable financial costs.
We require at least Wilderness First Aid and CPR training if leading events of this sort, renewed every other year at your cost
. [
Leave No Trace
] [
REI (Austin, TX)
] [
The Expedition School
] [
NOLS
] [
AMGA
]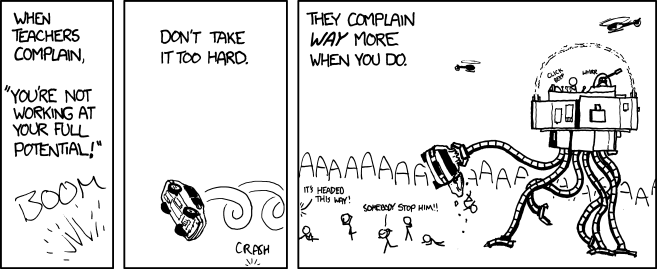 Image Source: XKCD
Announcements

From: Ellen Owens [mailto:ellen.owens@austinisd.org] 
Sent: Monday, May 23, 2016 11:25 AM
To: Ellen Owens 
Subject: Internships and LASA
 
Hello,
 
My name is Ellen Owens I am a robotics and SciTech teacher at LASA High School
in Austin ISD. 
 
We are looking for any internship opportunities available for our students
relating to CAD, design, or programming. These contacts I would only provide to
students who independently show the interest, responsibility, and knowledge to
do so. All of our student learn SolidWorks as freshmen and many continue in our
engineering classes or on our robotics team and many study programming in
multiple classes.
 
If you know of any opportunities at your companies or organization we would
love to pass them on. Please feel free to contact me for any other questions
you have about LASA.

Thank you,
 
 
Ellen Owens

Algebra 1 
PreCal AB
Robotics
SciTech
ellen.owens@austinisd.org
https://sites.google.com/a/austinisd.org/msowens/

Some Recurrent Events and Activities
Contact Information
James Choate
staff@confusionresearchcenter.org
ravage@ssz.com
512-657-1279 8AM - 10PM CT
---
[1] A quote from John Small, a senior engineer, describing the JPL ethos.
"JPL and the American Space Program: A history of the Jet Propulsion Laboratory"
Clayton R. Koppes ISBN 0-300-02408-8 (1982)

Hall interview with Small, Dec. 6, 1968, JPLHF 2-1392


[2] Brotherton, Mike. "Spider Star" (ISBN 978-0-7653-1125-2).

This is a quote which is itself a play on Ernest Shackleton's supposed request for participants in his Antarctic Expedition:

"Men wanted for hazardous journey. Low wages, bitter cold, long hours of complete darkness. Safe return doubtful. Honour and recognition in event of success."

The irony is it appears that the quote was fabricated many years after the actual event and is nothing more than urban legend.